The TRIP!
Final Map!
Note: feel free to send me comments at and of my Fnader.com addresses (or just use " wcelliot_yahoo@fnader.com ") or directly to Marianne at marianne @mmelliott.com
Background:
It all began as a "last hurrah" mother-daughter vacation for my wife (Marianne) and our newly licensed 17-yr-old Katherine ("Katie" to her buddies) in the summer between Katherine's junior and senior years in high school... no set agenda but driving to the west coast and back was the general idea...
Now it gets complicated:
Marianne decides that since we all drive vintage cars, she wanted to do the trip in a vintage car. Being that neither of them are very mechanically inclined, this poses a real challenge... both to prepare a vintage vehicle that will make the trip reliably AND train Marianne and Katherine how to handle the routine things that will invariably arise.
Now it gets MUCH more complicated:
Then they decide that they would like to be able to camp when they wanted to (instead of having to find a motel every night), but did NOT want to tow anything nor have to set up a tent, etc, every evening... this means the ability to stay in the vehicle... dramatically limiting the vehicle choices.
So what CAN we consider?
So as we are mulling over the "right" vehicle choice for the event, we attend the 2005 Import Carlisle show in the Tatra. Two interesting vehicles are on the show field... a Corvair van and a VW camper. This gets her mind going... but solid Corvair vans are difficult to find... and the few rare camper packages mean that we would be building our own camping capabilities into whatever we found. At this point a reasonable option....
The VW bus idea I vetoed... Split-windows had terrible brakes and very limited performance (not to mention the tendency to drop valves) and while the early Bay-windows have disc brakes from model year 1971 on, the performance (and unreliability) still made them a poor subject. Later Bays (with the Type IV engine) have their own set of complexities with the D-jetronic injection.... but at least were something I'd consider. The more practical Vanagon and Eurovan models were vetoed by Marianne as "not vintage enough"...
John Moody (more about him later) wonders why we did not consider an Ultravan (a rare Corvair-powered Class A motorhome) http://www2.onu.edu/~kwildman/ultraVan.html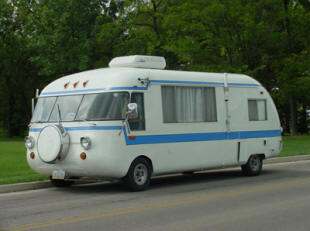 We did discuss an Ultravan. Marianne vetoed that as "too big" (along with several other "vintage" motorhomes... my first thought was a BMW turbodiesel Vixen http://stannerair.hypermart.net/1986vixen.htm , which while not truly vintage is already considered a classic... ) and I was concerned with the limited performance (about the same as a stock 1600cc VW camper). Had a decent reasonably priced one come up while we were looking (and I was actively looking for one) we might have more seriously considered it anyway...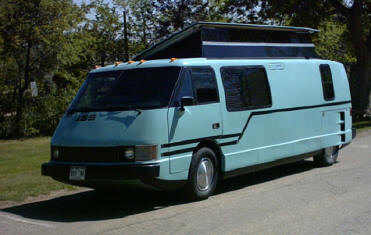 Marianne finds The Whale:
Later that morning, we're walking through the "Car Corral" of vehicles for sale, and Marianne immediately spies and early Bay with the full Westfalia camper package... in very nice shape (but ugly yellow bumpers...).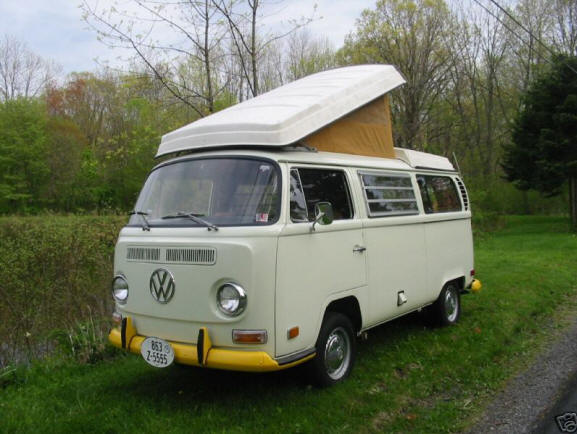 I recognize this as likely having drum brakes but definitely having the unreliable 1600 Type I engine... so I tell her "forget it" and walk on by...
She calls me back and says "there is a sign in the front "Not your Father's VW... Corvair powered!". Now this is an option I had not previously even thought of, but one that immediately had some attraction.
As soon as I opened the engine lid, I recognized the vehicle... this was The Whale, a 1971 (though actually built in 1970) disc-braked VW that fellow Group Corvair member John Moody had purchased new in Germany in 1971 (extensively touring Europe... still has the garbage bag from the 1972 Munich Olympics!) and converted to Corvair power after returning to the states. I had no idea that he had sold the vehicle that I had actually worked on back in the early 1990's. (the new owner had done the yellow bumpers along with a very decent respray... otherwise the VW was all original... upholstery, mats, all original camping equipment, etc). One of John's relatives had nicknamed the VW "The Whale" on first sight and it stuck...
Now this conversion (called a TransVair) uses both the Corvair engine and gearbox (in this case an automatic 2 speed Powerglide). The increased torque of the 2.7L Corvair engine (a low performance one to enhance reliability and low end grunt) allows a top end nearing 100 (not with me behind the wheel) but more important effortless 65-70mph cruising (as compared to the 65mph original top speed) while getting better mileage (18-20mpg) than the VW engine at 50-55.
The deal was closed pretty quickly and we picked up the Whale. After respraying the bumpers back white, we did several camping trips to "shake down" how to camp in a VW and to determine what modifications we wanted to make...
Forward to 2006:
The modifications made were fairly straightforward... adding a second battery, a 1200 watt voltage inverter, 63A internally-regulated alternator for the increased load, microwave/toaster oven combo, modern lighting and relays, stereo system (am/fm/cd/mp3/xm/and aux plug for Ipod), modern camping toilet (even flushes!), adding fuel solenoid (tank is above the carb inlets in this conversion), renewing the fresh water system (which John had not used in the US), etc.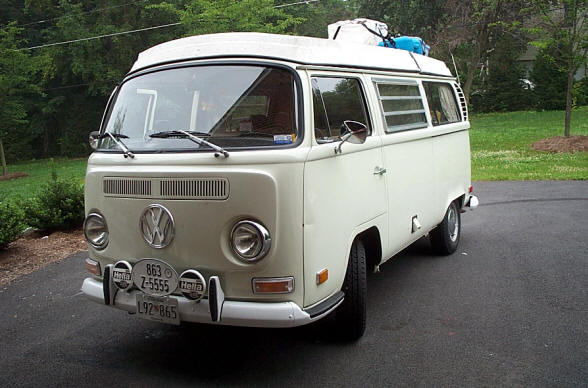 Mechanically the old Powerglide had been delaying taking up reverse, but then the decision on whether to mess with it or not was made for me when the torque converter seal dramatically failed. So a fresh PG trans, new "street rod" trans cooler, and a new torque converter were added and I cleaned up and added a little chrome to the drivetrain. Modern instrumentation (VM, dual CHT gauges, oil pressure gauge) were added... as well as a loud fan belt alarm...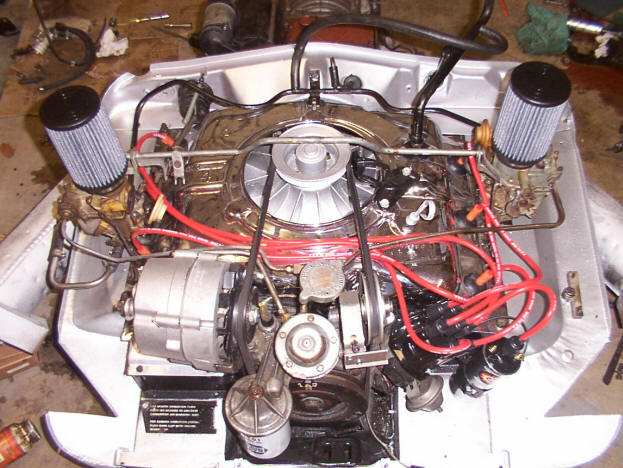 Two weeks of camping this summer added another innovation... a rooftop 110VAC air conditioner for use when camping. We decided not to add AC to the engine both from a heat load and complexity angle... but the fresh air ventilation is very good...
Last minute additions were a 6 gal marine fuel tank, a greywater tank (required by campgrounds in many states) and a collapsible tow bar that hooks to the front suspension and allows the bus to be towed by anything with a 2" ball..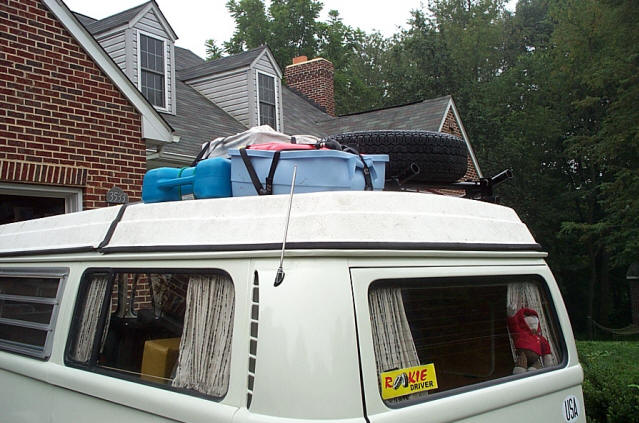 The trip itinerary:
Over the winter (and before the release of CARS), the route was mapped out... from MD south to my parents in Ashe County, NC, south to Asheville (Biltmore House), southwest to Cherokee, through the Great Smoky Mountains National Park, through Nashville to St Louis, Route 66 from St Louis to LA, north along the coast (with a likely inland visit to Yosemite) to Seattle to visit Marianne's brother, then east on the northern route (hitting Mount Rushmore, Yellowstone) through our friends in Lake Mills, WI, Chicago, and Rochester, NY, then to Marianne's homeplace in Bath, NY and college at Keuka, then south back to MD. A bit over 7500 miles depending on what roads they take...
They are carrying a CORSA roster as well as a similar VW roster... hopefully if they contact you along the way it will be for purely social reasons! ;-)
Marianne and Katherine are keeping a journal of their trip and carrying with them a homemade quilt for people to sign along the way. I'm sure that better written accounts of their trip will be forthcoming at a later date, but I set up this page to keep people updated along the way in semi-real-time.
The launch:
Saturday July 15, 2006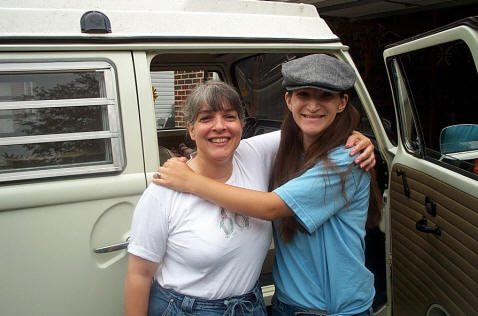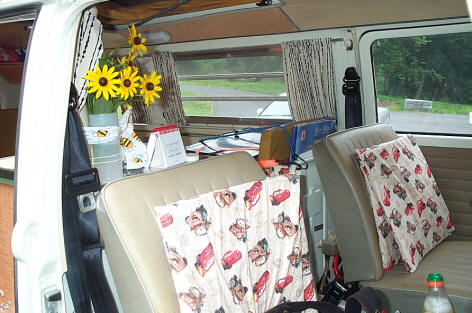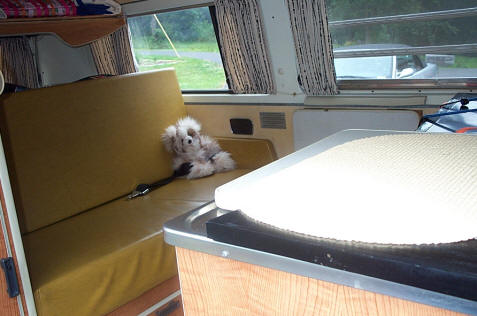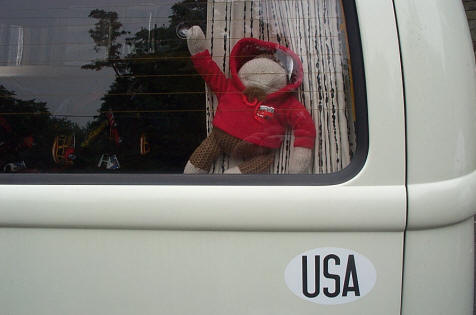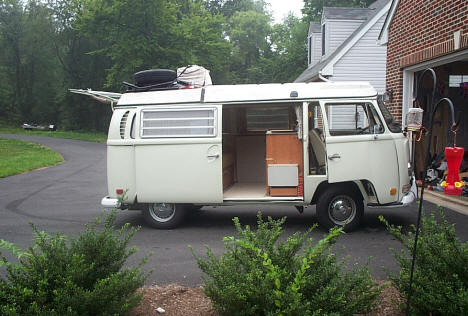 (Bill's previous commentary moved to the appropriate day in Marianne's journal)
Wednesday, July 26:
Sorry for the lack of updates, but I was attending the awesome Yenko 40th Reunion in Twinsburg, OH and the track event at Nelson Ledges (home track to Yenko!). http://www.yenko40th.com/
But now that we have the email issues (mostly) sorted I can step back from the narration and post Marianne's journal. Here is it starting from the beginning bringing you fully up to date:
Day #1
Saturday 15 July 2006
Start time: 8:23am Mileage: 79,609 Place: Home, Urbana , Maryland
Stop time: 6:00pm Mileage: 80,030 Place: Todd, NC (Bill's Mom & Dad's)
Today's Mileage: 421 Total: 421
We headed to North Carolina with Bill following us. It must have been the most painful 400+ miles for him, sitting in that sleek BMW with all those horses rearing to go and having to follow the Whale! He has the patience of a Saint with certain things and luckily this trip was one of those certain things.
(Bill: one positive aspect is that I discovered my M3 will actually get 30mpg if driven at 60-65mph...)
Had a wonderful time with Mom, Dad, Bill's sister Sharon and hubbie, Rodney. Visited "Grannie's" place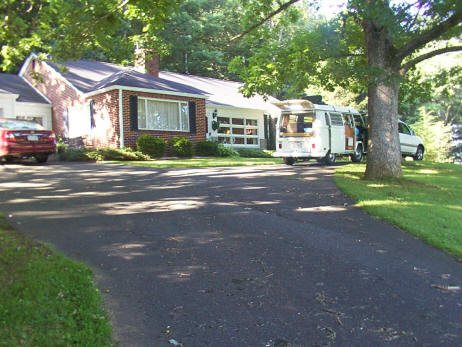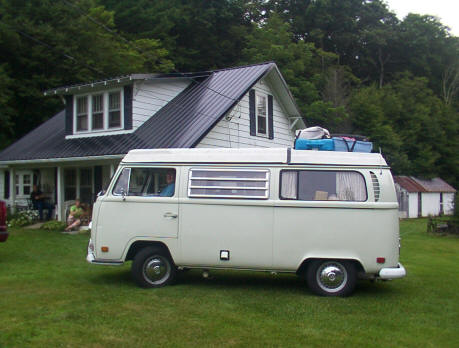 and the family land then to a fun dinner at our all time favorite place – Makoto's – to celebrate Dad's birthday a day early.
(Katherine getting abused by the chef "STOP THAT!" for being unable to control her laugh. Even after the meal when he was at another table he'd yell at her when she began to laugh!)
---
Day#2
Sunday 16 July 2006
Start time: 9:38am Mileage: 80,030 Place: Todd, NC (Bill's Mom & Dad's)
Stop time: 6:00pm Mileage: 80,396 Place: West Knoxville, Tennessee, Hampton Inn
Today's Mileage: 366 Total: 787
Average mpg: 18 – 19 (Stock Westies got mid-teens at 50-55mph. This is excellent running 65+... at 55-60 they can get better than 20mpg)
After a few last minute adjustments – putting the new snap fasters on the windscreen privacy curtains, getting ice and drinks, checking all the systems – we head out on our own. Katherine puts the Celtic Women CD – some how appropriate. Stopped at two WalMarts for needed items – campground directory, more TP (the special kind), bungee cords, etc. – to no avail.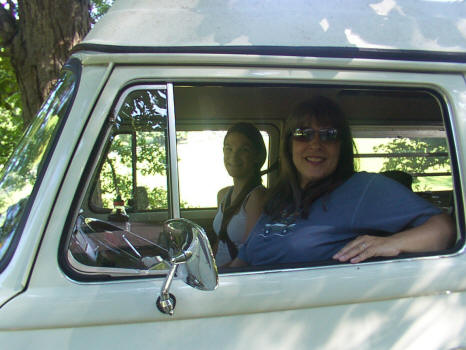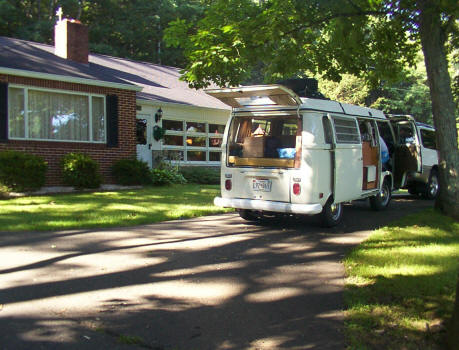 (Bill: that's "toilet paper" for the camp potty...)
We stop at the Biltmore Mansion in Asheville http://www.biltmore.com/ only to use the restrooms – we require more! ;-) Decide to return when we have a full day to enjoy it and press onto Great Smoky Mountain National Park.
On the way to the mountains we encountered some busy city streets in the downtown areas that were crawling with pedestrians.. many not using the crosswalks. After numerous stops and starts to avoid accumulating too many "points" for pedestrians, I blurted out, "Take your time; I'm driving a vintage vehicle with faulty brakes!" Ok, only the first part is true., The brakes are fine – just takes a while for the Whale to stop 'sloshing.' Stopping on a dime is out of the question.
The drive through the park was amazing – gorgeous views and winding roads great for a TR-6, but which the Whale handled well enough. We stopped at the museum that included a log house and entire farm, and got a few 'decorating' tips for our log house.
Running behind and not having found a place to camp – we were aiming for Cumberland State Park - we roll into a Hampton Inn feeling like we have failed on our first day. However, spotting three British cars in the parking lot "turned our frowns upside down." The TR-4, Spitfire, and rare Herald are just gorgeous. Of course, we stopped to talk and from the gentlemen heading to Texas for the Triumph convention. We swapped car stories and they signed our quilt. What a perfect end to the day.
Bill- They met up with a Triumph caravan headed down to http://www.vtr2006.com/ in Texas. This hardcore group had also been at our local show in Maryland last month and recalled the cars we showed there..
http://www.chesapeakechaptermgtclub.com/OBCD_main.htm
Westbound and down, loaded up and truckin'
---
---